Really?
Really?
A team of astronomers from the University of California and the Carnegie Institute of Washington say they've found a planet like ours
"The chances for life on this planet are 100 percent," Steven Vogt, a UC professor of astronomy and astrophysics says. "I have almost no doubt about it."
So then it must be close to Earth, right?
No, it's 1
20 trillion miles away.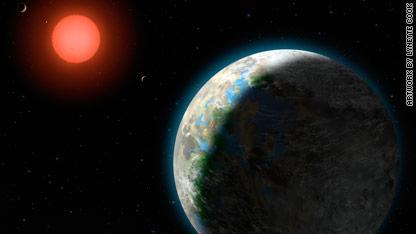 An artist rendering of Gliese 581g
The atmosphere and gravity are similar to Earth, and if you're from the polar regions, you'd definitely feel right at home. Scientists say the highest average temperature is about -12 degrees Celcius (10 Fahrenheit), but they point out that
the planet doesn't have a night and day - one side continually faces the star and the other side faces the darkness of space
.
This means one side is blazing hot and the other freezing cold.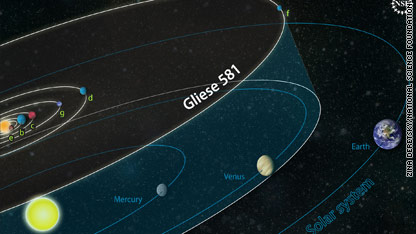 The planet on the left of the image labled 'g' is the one that may harbor life.
Gliese 581g is 20 light years away. Meaning that if we had a spaceship that could travel at the speed of light (the fastest speed in existence) it would still take 20 years to get there.
The planet is three times the size of Earth, but the gravity is similar.
Dr. Elizabeth Cunningham, planetarium astronomer at the Royal Observatory in Greenwich, says the discovery is a huge deal.
"It could have liquid water on the surface," she said. "That's the first step to find life.
"
Well, whatever, it's still a cool find regardless of the fact that we'll probably all be dead before we go there. Even if there is life on Gliese 581g, I think it will be some kind of protist.
But who knows, maybe we'll get lucky (or unlucky, depending) and find something like this:
http://news.blogs.cnn.com/2010/09/30/100-percent-chance-for-life-on-newly-found-planet/